AGRITURISMO CERQUAGLIA Todi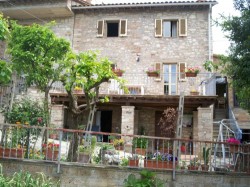 A circa 600 mt. dalle mura di Todi, si colloca l'agriturismo "Cerquaglia", un casale risalente all'inizio del 1800, posizione strategica per la tranquillità della zona e la vicinanza, sia degli impianti sportivi di Pontenaia (comprensivi di piscina), che delle bellezze artistiche che la città di Todi offre ai suoi numerosi turisti. L'agriturismo "Cerquaglia" è ideale per trascorrere una piacevole vacanza nel silenzio delle campagne Umbre.
L'ospitalità dell'agriturismo fa rivivere agli ospiti un'atmosfera semplice e familiare.
Situated just 600 mt. from the city walls of Todi, lies the country house "Cerquaglia", a farmhouse dating to 1800, placed strategically due to its peaceful area and its surroundings; Pontenaia sports facilities with swimming pool and the artistic treasures Todi offers to its numerous guests.
The country house "Cerquaglia" is perfect for those who want to spend a pleasant holiday in the silence of Umbria's beautiful countryside. 
The hospitality of this country house makes you relive a simple and homely atmosphere.
Indirizzo
via delle Piagge, 7
06059
Todi
Perugia Umbria Italy
Contatti
Tel.: Tel. +39 075 8948234
Fax: Fax +39 075 8948234
E-Mail: Questo indirizzo e-mail è protetto dallo spam bot. Abilita Javascript per vederlo.
Website: http://www.todi.net/cerquaglia
Inserite il vostro indirizzo nello spazio sotto per calcolare il percorso più breve.