Camminando per Todi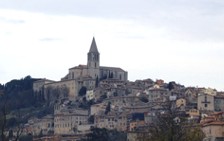 Per ammirare meglio le bellezze della città, si consiglia di iniziare il cammino dal meraviglioso Tempio di Santa Maria della Consolazione, sito alle porte di Todi. Salendo l'alberato Viale della Consolazione, dopo i Giardini Pubblici, sulla destra si incontra il Tempio di San Fortunato....
Dietro al Tempio si trova un sentiero che porta all'interno del Parco della Rocca. Tornando ai piedi della scalinata di San Fortunato e proseguendo per Via Mazzini si nota, sulla destra, il Teatro Comunale. Proseguendo lungo la via, si arriva nella splendida Piazza del Popolo dove si ammirano: Palazzo del Popolo, Palazzo del Capitano, Palazzo dei Priori, il Duomo. Sotto la Piazza del Popolo è inoltre possibile ammirare le Cisterne Romane: oltre 5 chilometri di cunicoli e gallerie, più di 30 cisterne, preromane, romane e medievali, 500 pozzi di varie epoche formano il ricchissimo patrimonio sotterraneo della città. Accanto alla Piazza del Popolo ve ne è un'altra che prende il nome dalla statua dell'illustre personaggio che vi troneggia: Piazza Garibaldi. Da qui, scendendo per Corso Cavour, troviamo sulla destra la Fontana Cesia. Proseguendo si arriva alla Porta Marzia. Dopo pochi metri, svoltando a sinistra, si possono ammirare i Nicchioni Romani. Procedendo lungo questa via si arriva alla Chiesa di S.Carlo. Poco oltre si trova la Fontana di Scarnabecco e più avanti si può ammirare la Chiesa di Santa Prassede. Tornando indietro per riprendere Corso Cavour, si scende ancora e si svolta a destra per arrivare alla Chiesa di Santa Maria in Cammuccia. Alla fine della discesa troviamo Porta Amerina; da qui, percorrendo Via della Circonvallazione verso sinistra, si giunge a Porta Romana. Fuori dalle mura, a 300 metri da Porta Romana, si vede il Tempio del Crocifisso. Da Porta Romana, continuando a percorrere la Circonvallazione, si trova Porta Perugina e, ancora oltre, i resti di Porta Orvietana. Da qui un lungo viale alberato conduce al Convento di Montesanto.
The visit can begin from the beautiful Tempio di Santa Maria della Consolazione, at the beginning of the city. Going towards centre of the town, walking past the public gardens, you will see the Tempio di San Fortunato. Back to the temple, you will reach the Parco della Rocca. Then come back to the temple and go on along Via Mazzini and you will see on your right  the Teatro Comunale. Going furthermore you will reach the marvellous Piazza del Popolo where you can see: Palazzo del Popolo, Palazzo del Capitano, Palazzo dei Priori, Duomo. Under Piazza del Popolo it is possible to admire the Roman Cisterns. Near Piazza del Popolo there is Piazza Garibaldi From this square, going down Corso Cavour there is the Fontana Cesia. Going on you can see Porta Marzia. On the next corner, on the left, you will find the Nicchioni Romani. Going on this way you will reach the Chiesa di San Carlo and then the Fontana di Scarnabecco and even the Chiesa di Santa Prassede. Follow the same street back to Corso Cavour, go down and turn on the right to see the Chiesa di Santa Maria in Cammuccia. At the end of the slope rises the Porta Amerina. From here, take the main road and you will arrive before Porta Romana. Out of the city walls, there is the Tempio del Crocifisso. From Porta Romana, along the main road, there is Porta Perugina and then the massive remains of Porta Orvietana. Here there is a long tree-lined avenue that leads to the Convento di Montesanto.